Complex and nanostructured materials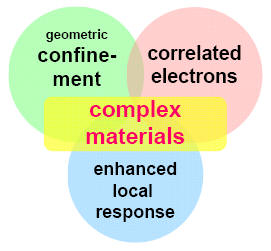 | | |
| --- | --- |
| | light - matter interaction and electronic reconstruction in nanoscale systems and metamaterials |
| | large cross susceptibilities in inhomogeneous matter |
| | novel sensor applications and information storage concepts: bistable molecules in templates |
Tip-enhanced scattering on templated molecules
A novel light scattering technique based on the combination of Raman scattering and an atomic force microscope is implemented and used on single molecular magnets and buried molecules in nanoporous templates. -> TERS LAB

Elastic and magnetic properties of nanocomposites
Nanocomposites have an exceptional large internal surface that supports the coupling of different order parameters. Plasma sparc sintering allows the preparation of uniform bulk materials with a well defined length scales in the nm range, complex nanostructures and exceptional mechanical and electronic properties. Investigations are performed together with groups from the Inst. of Inorganic Chemistry, Univ. Stockholm and the MPI-FKF Stuttgart. -> US LAB

Coupling of FM and FE order parameters
Mutual exclusive order parameters can be coupled leading to new functionalities as observed in multiferroics. Such a behavior is presently studied in nanoscale composites (meta materials), incommensurate antiferromagnets and lone pair compounds. Work is performed in collaboration with groups from the Univ. of Augsburg, Chisinau and the TU Braunschweig.

Doping of correlated oxides and molecular systems
Phase diagrams with competing states, phase separation or unusual criticality are observed. The resulting soft electronic modes lead to colossal response to external magnetic or electric fields. Low energy intermolecular modes critically affect the spin state of the molecular systems. Work is performed in collaboration with groups from the university of Frankfurt, Erlangen and Bielefeld.
colossal magnetoresistance, magnetocapacitace, thermopower in manganites, thiospinels and cobaltates

Interdisciplinary material research:
Physics/chemistry data base search for novel functional material

Interdisciplinary approach to characterize and develop novel preparation concepts:

- electrochemical preparation of nanoporous systems
- plasma sparc sintering of nanoscale composites
- magnetic host-guest compounds
We acknowledge financial support by DFG (projects and topical centers), ESF, Vinnova, and the NMWK.